The door is a showcase of the house, because it emphasizes its character from the entrance.
Rich color profiles, virtually unlimited construction possibilities and the ability to choose a variety of fillings, from classic to ultra-modern.
Advantages of uPVC-entrance doors
In addition, the door is expected to provide a high degree of safety and protection against noise and weather conditions.
The characteristic features of the door in aluplast systems is their reliability and elegance. Thanks to multi-chamber buildings, construction depths from 70 to 85 mm and the use of a door threshold with a thermal insulation spacer, they have very good thermal insulation parameters.
The high stability of the wings through the use of reinforcements with large cross-sections and the use of weldable corner connectors guarantees appropriate static and strength parameters.
The low door threshold with a height of 20 mm, corresponds to the requirements for construction without architectural barriers and allows trouble-free entry and exit.
Specially shaped threshold feet allow you to connect with additional system profiles, such as extensions. A wide aluminum drip tray drains water to the outside.
Doors can be varnished in any color from RAL palette and also you can choose between SMOOTH surface covered by aluplast foil, white or varnished.
But you can choose innovative deoration RealWood by VIKKING.
PVC entrance doors systems
A showcase of your home. Five-chamber system with a depth of 70mm with the possibility of filling with glass, PVC panel or composite panel up to 41mm in width.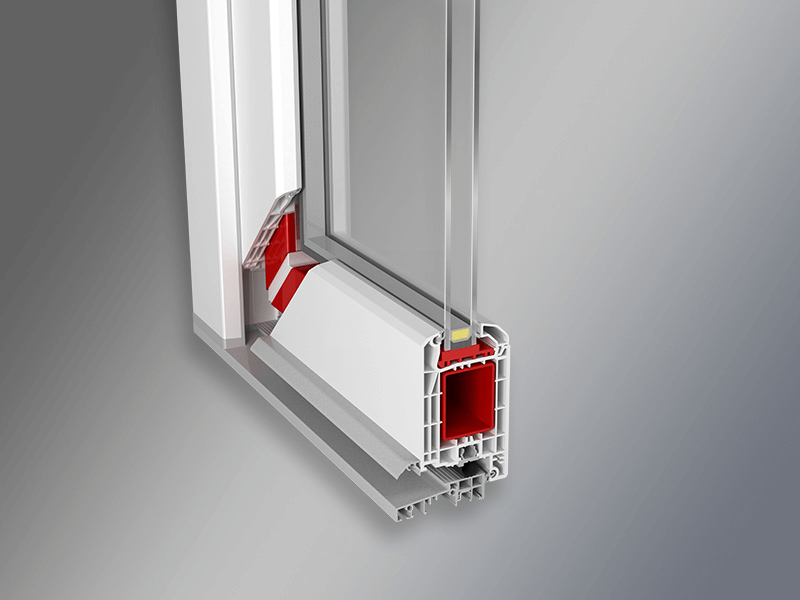 Strong entrance. Six-chamber system with a construction depth of 85 mm with the possibility of filling with glass, PVC panel or composite panel up to 51mm in width.